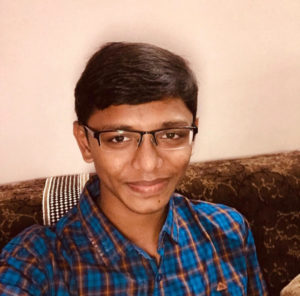 Hi there, This is Jay Panchani From Gujarat, Founder of WebCanteen.
My journey as a website developer started when I was in 7th standard/ Age:13 year (2013), I made my First website with help of basic HTML which was saved on a notepad on my computer offline.
At that age, I had very little knowledge of website development. I was a big fan of Avengers that's why I created a website with simple links which attached to a jpg picture and one constant moving text horizontal "Avengers Assemble" with marquee tag by using my school computer subject textbook.
I know you will say what's that special in that basic HTML site but as a 13-year-old kid, it was a wonderful experience. It was my dream to create a website and put it on the internet so people can see my work but at that age, I don't know anything about how to create a website and all that SEO things.
Moving forward at the age of 16, I learned almost full HTML which the help of my friend's computer book (who was in an international board) and with w3school. After that, I jumped to further more advanced level with CSS. again thanks to w3school I learn everything about how to design website with CSS.
At the end of 2016, I started my youtube channel (The Jupiter Scientist) where Youtube was booming in India, thanks to free internet service of Jio. Technical Guruji & My Smart Support was my inspiration and I made lots of videos on technology-related but as I stared in just 1 month Youtube announced their monetization policy (10,000 subscribers to monetize channel). My main goal was to earn money from Youtube and I demotivated with that policy because I had just 48 subscribes at that point and I quit it.
I know you will say you have to do hard work and to achieve success in life. but at that time I was in 11 Std. (Science Stream) and so my parents did not allow me to do these things which were apart from my study.
But that passion to work on Internet wasn't dead even after 2 years later, after completing my 12th Std.
Now it was vacation time and I learned how to use WordPress to deploy site and domain and hosting, so and so from obviously Youtube for free. and started a website with free domain extension .ml and free hosting. I started to learn how to manage all things practically with the concept of Beebom (Technology NewsSite) and The Verge (NewsSite). At that moment I didn't know anything about SEO and first of all, you have to submit your site to google console to index on the search engine. I just randomly making a news post and hoping that people are visiting. How noob I was?.
On the other hand as a student, I was preparing for IELTS and SAT for abroad study. In May I appeared SAT and got 960/1600. Yes, this is a disappointing score. I was excellent in English but I studied in Gujarati from Nursury to my 12th Sci. Maths and everything were in Gujarati except that English numerics.
Exams like SAT / IELTS need some knowledge of high-level English language. But after that, I worked hard after in Sept.2018 appeared IELTS and got 6.5 Bands. as soon as I stared process of US F1 VISA. I applied on 3 universities for Bachelors in I.T. and based on my academic I got the offer letter from all of them and after receiving that I applied for VISA interview.
But
After at first time at MUMBAI, I got rejection but I just stick with it after all this was all about my future, my career, my life. So applied for the second time, and again got a rejection, this time place was KOLKATA.
I was very sad and demotivated because after giving my best and pushing my self to the maximum level and also the money of my father. I was tried to destroy all that offer letters, application and IELTS result. But my father stopped me and motivated me to just stick with it without having any kind of tension. He will pay any cost if I want to study abroad.
On the other side suddenly one day my site was showing Host server problem when i researched on it I found it was due to that free hosting. and I was frustrated because wasn't able to log in WordPress login panel nither to c-panel. and my all work was just destroyed and due to this one and frustration, I quit blogging.
And I applied 3rd time at NewDelhi and I set my mind if this time i got rejection then without wasting money i will quit plan of abroad study. what are you thinking?, What happened? I got a hattrick. REJECTION.
Just imagine a guy who just passed all his vacation to make himself perfect and fluent in English and spend lots of money and effort but nothing happens visa officers tells that "Hey you are not qualify for this at this time" but just give a single reason Why am I not qualify? so that I can improve my self and without wasting my life's golden period. (I saw that in US VISA interview, the interviewer doesn't give a specific reason before they say sorry try next time.)
After that, I learned lots of things in Digital Marketing and Website Development, Specially SEO which I didn't know it exists. But after getting a rejection on rejection that dream to study in a foreign university and to increase my knowledge in Information Technology (website-development) is still somewhere in the corner of my heart.
Time passed away and In in end of Oct.2019 I started this blog, WebCanteen to help new bloggers to make their money-making a website by investing less than 5$ per month.
So this was my full story and some experiences which I faced during the last 3 years in my life. I hope you enjoyed it and thank you so much to read it till here. If you need any kind of help related to Website Development, SEO or anything about Blogging just contact me at jaypanchani(at)webcanteen(dot)com. I will happy to help you.
Yes, It's me Jay Panchani, You're new friend From WebCanteeen.
Follow me on Instagram: @JAYPANCHANI1054