Is SiteGround worth your money?
Which SiteGround Plan is best for me?
Find out all details in this review which include its Performance, Pros & Cons and Discounts.
Official WordPress.org team itself suggests to use SiteGround if you are a beginner or a master. Also with the latest PHP 7.3 & free SSL Certificate (necessary for google SEO), Siteground offers maximum performance with this it becomes the best WordPress hosting.
You will ask Jay, How can we trust you? How can you say that SiteGround offers world best web hosting?
First of all, I am not saying this without having any proof. After spending a whole day on this research I choose Two Hosting.
Later this I had come across terrible reviews from many professional bloggers. Bluehost is EIG- owned hosting company so I abandon it.
Then what about SiteGround,
Who owns SiteGround?
Basically SiteGround is an independent Webhosting company founded in 2004. They have data centers across the world like the USA, UK, Amsterdam, and Singapore.
SiteGround Hosting Honest Review: Good things and Bad things
Selecting a hosting service based on the features it has to offer is the ideal way to go about it. Moreover, understanding whether or not the hosting supports your platform is of paramount importance. – Srikanth AN (ShoutMeLoud).
We all know how hosting the dashboard looks Cpanel, yes it also has Cpanel which is a popular web hosting dashboard.
Also lots of various parts which make a lot of difference in comparing to other hostings.
SiteGround Uptime:
I noticed that some EIG hosings in which server resources were finished and websites were down for hours. It Affects a lot in SEO. Also, this may be the major factor of the de-raking of your site.
Here SiteGround Claims to offer 99.99% uptime whether it's day or night.
This is due to their server isolation technology on their shared hosting as well as servers. which causes any hacked/infected website will not affect other sites on the server.
SiteGround Response time:
For locations like Us, it has 1ms response time which shows the performance of its extraordinary servers.
SiteGround servers location:
Chicago, USA
Singapore
London, UK
Amsterdam, Netherlands
Free SSL Certificate and SG optimizer plugin:
The fact is that an SSL certificate is a must-have for any WordPress web-hosting. Different between other hosting services and SiteGround is that it offers a free SSL certificate.
It also offers Supercacher, a technology developed by the in-house team.
This Plugin reduces the load time of the site by adding several layers of caching.
SiteGround offers Free Website hosting Migration:
Other Hosting companies charge you for migration but For SiteGround website migration is completely free. If you are migrating from your existing hosting to Siteground, you can take advantage of their free website migration.
Some Great Features:
Unlimited Bandwidth.
One-click WordPress installation.
Tech support includes WordPress experts, which means a one-stop-shop. for hosting and WordPress solutions.
Security at every level.
First hosting to support PHP7.
Offers free SSL using LetsEncrypt.
SiteGround Hosting Plan & Pricing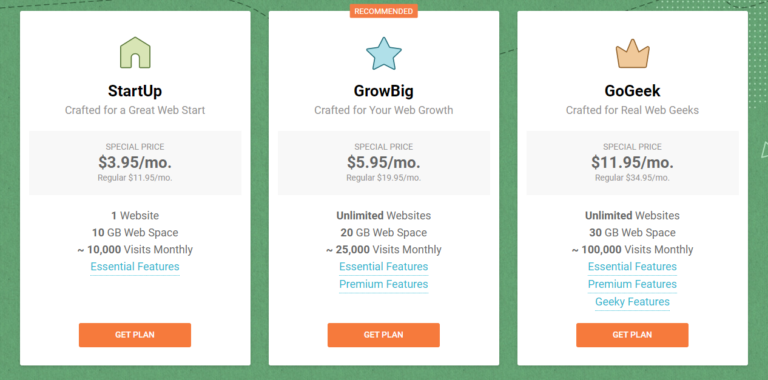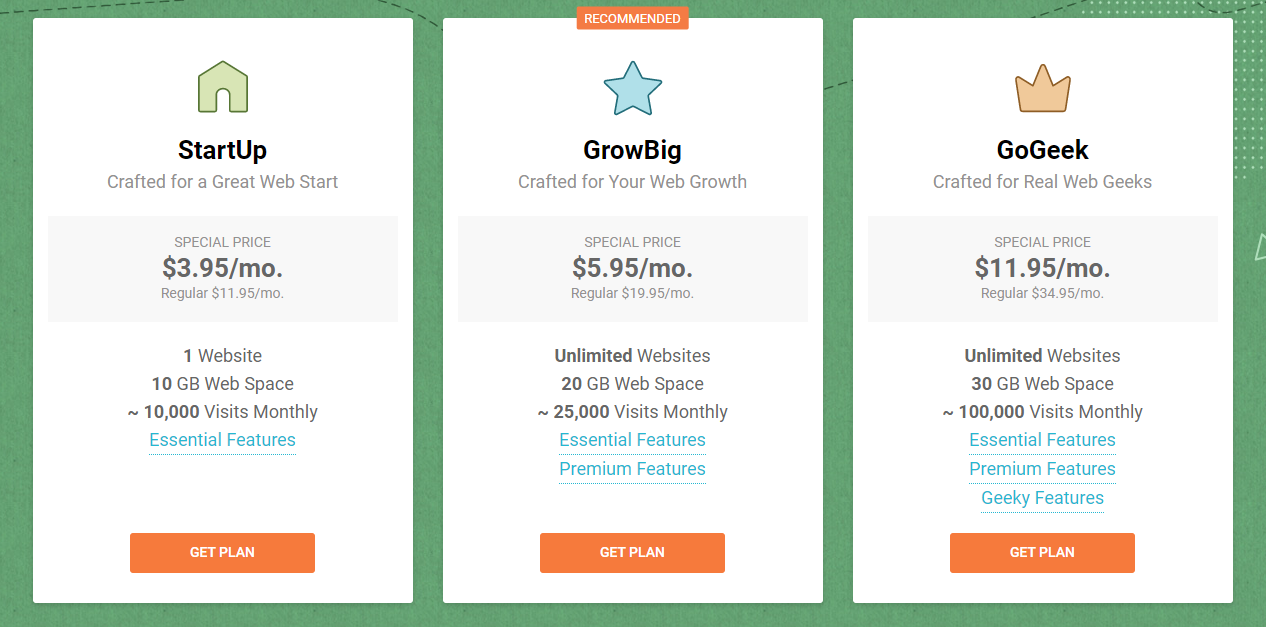 They offer three different hosting plans to select from under the shared hosting category.
SiteGround Offers:
Unlimited data transfer.
Free website transfer.
cPanel access.
Free SSL.
Free website backup.
WP-CLI enabled.
Which SiteGround plan is perfect for me?
Startup: This plan is suitable for those who need to have only one site. A business blog or for a personal blog. At $3.95/month, it is the cheapest in the hosting industry.
Growbig: This plan is suitable for bloggers like me and you, who need more server resources. Here you can host multiple websites and get access to their Supercacher technology too.
GoGeek: This plan comes with 4 times more server resources and offers to stage features. Also, your website will be hosted on a server with a limited number of websites. I would suggest this plan if you require Git/staging feature and free backup & restore.
Here I have an up to 70% discount! for you. Hosting a discount is applicable only on the first invoice, which is why buying a 2-3 year package will save you a lot of money.
Pros & Cons of SiteGround Hosting:
Pros:
Instant customer support (live chat or ticket).
Free website backup & migration.
Low pricing.
Supercacher technology.
PHP 7.3 hosting.
SSD Hosting.
Free SSL Certificate.
Cons:
Data storage is limited (20GB, 30GB), even though a regular WordPress blog doesn't require more than 2-3 Gb disk space.
Nothing else I can think of.
---
This was a Full SiteGround Review. Again Click here to buy Best Performance hosting.

Comment your thoughts about this review.

Share this siteground review with your friends.

Featured Image Vector Designed by fullvector / Freepik.
---
SiteGround Honest Review: Is it worth to buy? - WebCanteen
Is SiteGround worth your money? How about the performance, pros & cons, uptime? Here is my honest review of SiteGround after using it

Price Currency: USD

Application Category: "Webhosting"