There are lots of drag and drop page builders available for WordPress sites.
But at the beginner stage of blogging, every newbie gets confused too choose a right page builder which takes less time and effort to build their blog.
Beaver Builder and Elementor are well known and easy to use. However, there are lots of other good page builders like Divi Builder and Thrive, Architect, etc.
But Beaver Builder and Elementor are top of the industry in terms of new features and ease of usage. In this post, you will find a head-to-head comparison between Beaver Builder vs Elementor page builders.
Pros & Cons
Pros of Beaver Builder and Elementor:
| Beaver Builder | Elementor |
| --- | --- |
| Modern Design Features, Gradients, Drop Shadows | Template & Block Library |
| Full Template & Block Library | Website Personalization Features |
| Ideal Page Builder For Agencies | Most Powerful Popup Builder |
| Fast Front End Page Builder | Live Front End Page Editor |
| Whitelabel Option On Higher Package | Creates Post Type Layouts, Custom Headers / Footers |
Cons of Beaver Builder and Elementor:
| Beaver Builder | Elementor |
| --- | --- |
| Lacks Form Builder | Support Unwilling To Provide Custom Solutions |
| May Need To Purchase An 3rd Party Addon For Extra Features | 3rd Party Addons Commonly Cause Issues |
| Development "Feels" Slow Compared To Elementor | Features Lack of Useful Options |
| | No Whitelabel Version |
In House Themes
There are many free themes available. Most of them work great with Elementor and Beaver Builder.
But many free themes ends on CSS and scripts error. And takes too much time to load that may increase the bounce rate of visitors. (At WebCanteen, I use GeneratePress – The perfect lightweight.)
Buying any genuine theme along with a page builder (Elementor/Beaver Builder) will cost more than your hosting plan. And as a newbie, I don't recommend spending a bunch of money to customize your blog.
So, what next?
The Hello Theme by Elementor
The Hello Theme is the fastest WordPress theme ever created by any page builders. It is beating themes like Generate Press, Astra, Divi & Twenty Seventeen in terms of performance.
It is easy to use with the Elementor page builder. It creates post templates or landing pages at the lowest risk of compatibility issues.
Moreover, The hello theme works great with WooCommerce, Yoast, WPML, and other 55K+ plugins without having any CSS spacing glitches.
The Beaver Builder Theme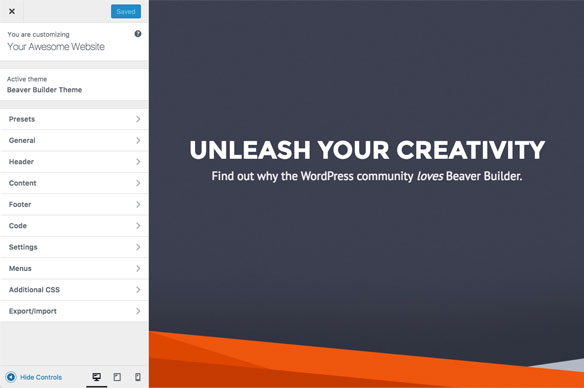 The Beaver Builder Theme utilizes the popular Bootstrap framework as its CSS base.
It is the most versatile and lightweight theme compare to The Hello theme.
You can use it as an addon with The Beaver Builder where you can create a sales page, a perfect landing page, a website for a creative agency, an eCommerce store, portfolio, multiple blog layouts, and a lot more.
Apart from these, it comes with an array of Hooks and Filters is very very helpful to customise your site. (Personally I use Hooks and Filters at WebCanteen).
But sadly this awesome framework theme from Beaver Builder is not free. The theme is available only with the Pro Package priced at $199.
---
In the end, The Hello Theme is best if you've just started and don't want to spend extra money on a theme. Buy Elementor Pro for it and you're all set.
If you've money then go for Package of Beaver Builder & with Beaver Builder Framework. It is fast, simple, easy, and a lot to offer compared to the hello theme.
Pre-Designed Templates
Sometimes you don't have any design ideas for your Homepage, Posts, or archive pages. Here pre-designed templates come in to picture.
By just one click you can add a full template of post/page and style it with your taste.
Luckily both Beaver Builder and Elementor have great pre-designed templates.
Beaver Builder Template Library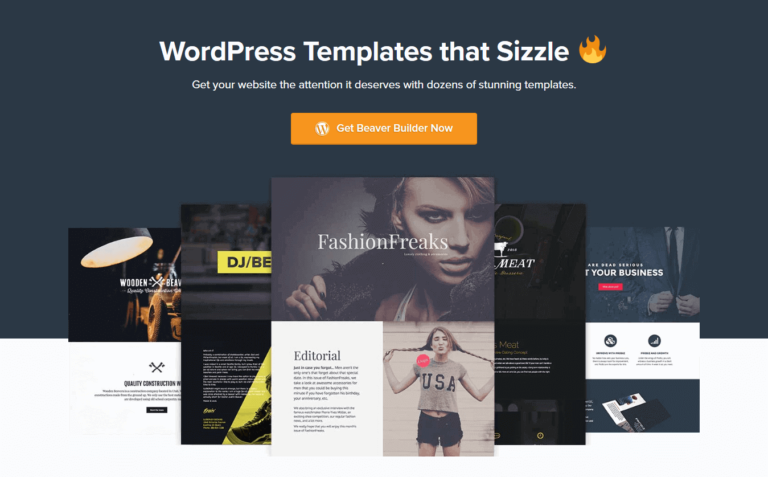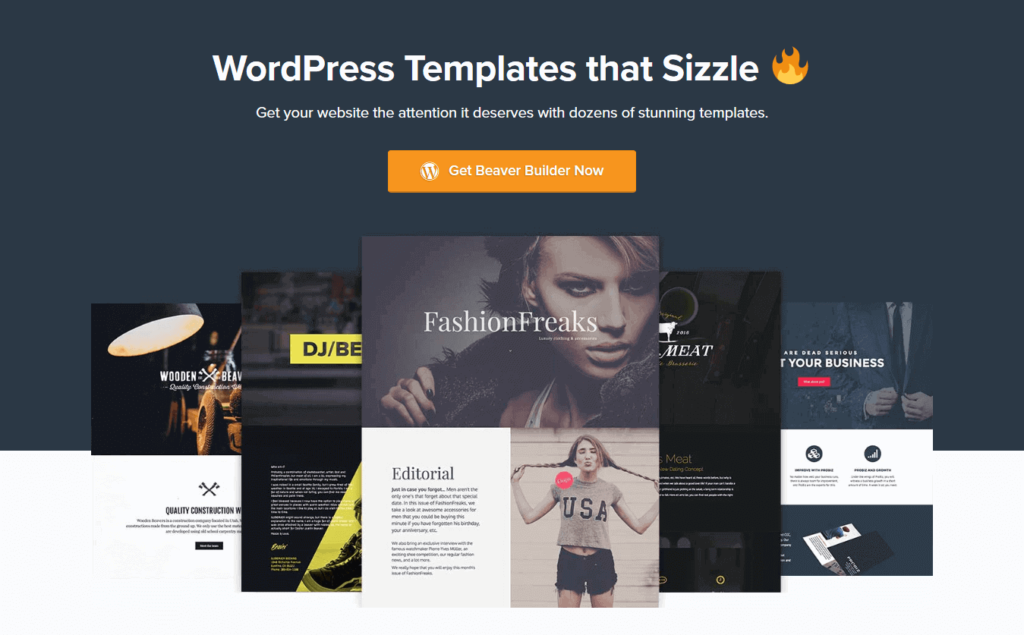 Beaver Builder has 30+ templates of Landing Pages & Content Pages (Includes about pages, contact, services, portfolio, team, and so on).
All of them are professionally designed and highly customizable & quite classic in style. Hove'ever you can easily edit and save it as per your taste.
But these templates are not available for a free version of Beaver Builder. You need to buy at list Standard Package worth of $99.
Besides, there's a plugin called Ultimate Addons for Beaver Builder which has 100+ pre-designed templates and rows.
Another one is Beaver Builder PowerPack which offers 350+ Beautiful Templates & 65+ Creative Modules. (Highly Recommended)
Elementor Template Library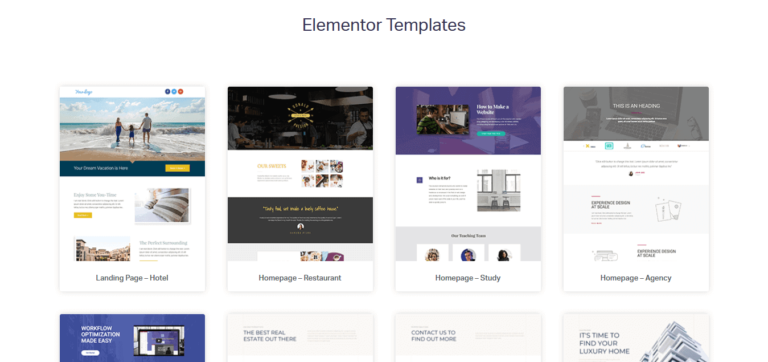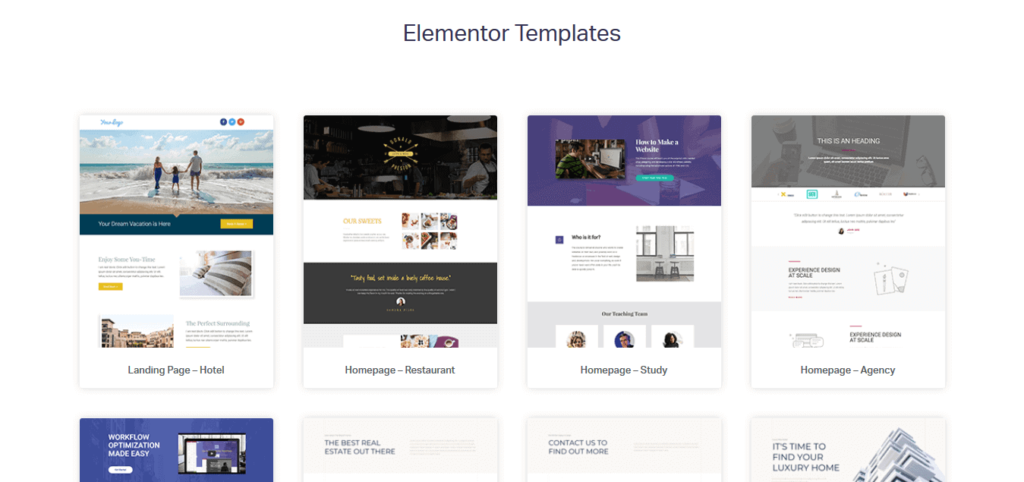 Elementor is full of modern and cool looking pre-designed templates for posts and archive pages along with pop-up & much more.
Elementor Free plugin comes with 30+ Basic Templates & 40+ Basic Widgets.
Here, it's Personal Pack of $49 includes 300+ Pro Templates, 50+ Pro Widgets & 10+ Full website template kits.
Apart from this PowerPack for Elementor to add 70+ Widgets & all of them are super useful.
---
In the end, Elementor has great pre-designed templates to offer whether you go for a free or pro plan.
I know that Beaver Builder has not many templates as Elementor and there's no free stuff.
But my friends Beaver Builder with PowerPack is top of the hill.
PowePack of Beaver Builder has lots of things to offer compare to Elementor Pro.
Styling/Advance Options
After adding the pre-designed template, turn comes on styling it as you want.
Both Beaver Builder and Elementor have the most advanced styling features. Here you can edit every single row and section of the page.
Beaver Builder Styling/Advance Options
Simplicity is the main focus of Beaver Builder.
It doesn't mean it has a lack of styling options.
It shows three different tabs for a specific module, all come with basic options.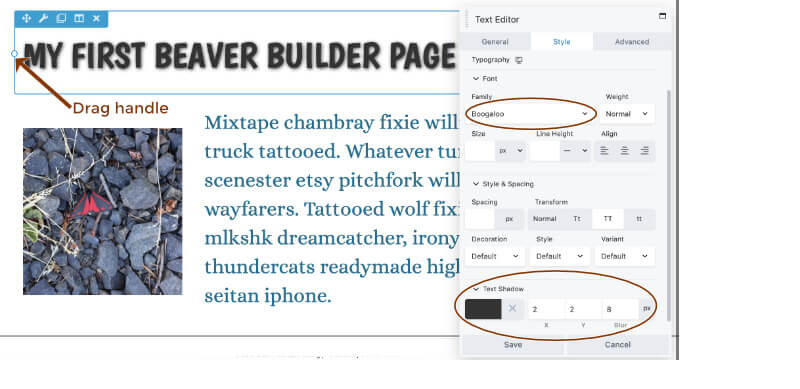 General – lets you set basic content and functionality
Style – lets you choose colors, basic alignment, font size, and more
Advanced – lets you add custom margins, responsive settings, user role visibility, animations, and CSS identifiers
The most, unlike feature, is its CSS code functionality. You cannot add CSS for any individual module, it applies for the whole page.
But it's Advance column gap feature is very useful to compare Elementor.
Elementor Styling/Advance Options
Elementor has Global style option where you can change entire sites fonts and colour styles.
Here for any widget, tab, and column, you get 3 different options,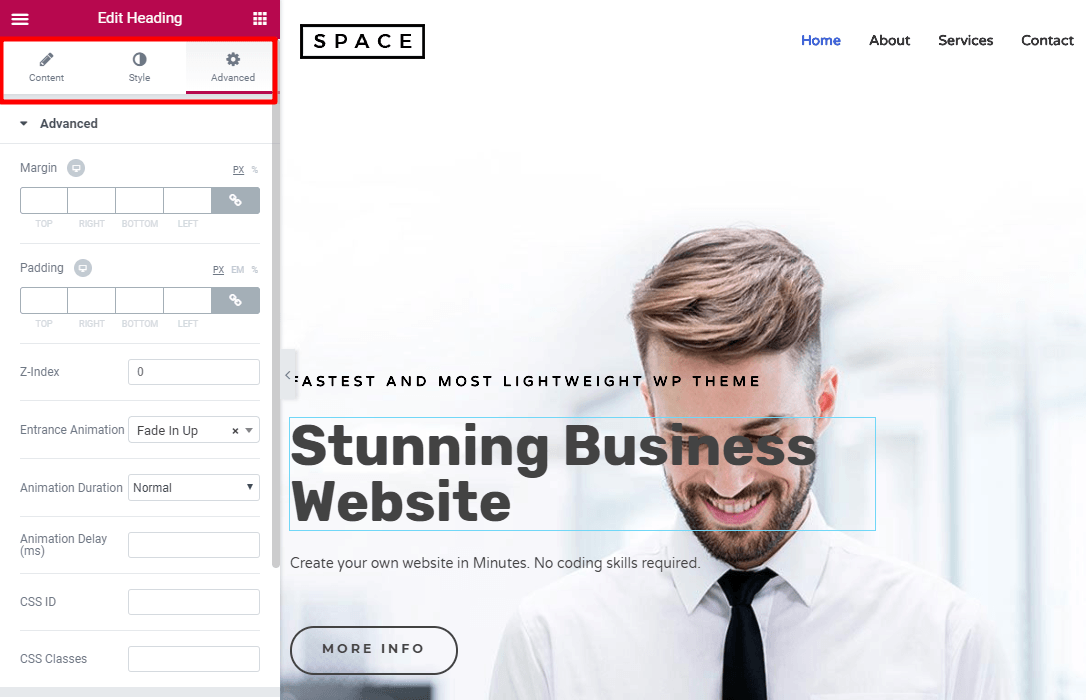 Content – basic things like alignment and size.
Style – colours, typography, etc.
Advanced – custom margin/padding, animation, responsive controls, Z-index, and more.
Apart from these great features Responsive Controls and Custom CSS for individual module top of the industry options. (view all features)
Also, you can set a different font size for different screens (Desktop/Tablet/Mobile).
---
In the end, Beaver Builder has very basic styling options.
Elementor wins through its styling features. Without adding any addons it has great options that give it professional-looking touch.
Unique Features
Elementor has the most unique features like Global widgets, Shape Dividers, Embed anywhere and Maintenance Mode.
Global widgets – you can use global widgets in many spots and then update every instance at the same time.
Shape Dividers – add cool looking SVG shapes to your designs right from the Elementor interface.
Embed Anywhere – lets you use widgets and shortcodes to embed Elementor designs anywhere in your site, including sidebars, footers, and other areas.
In Beaver Builder, you get only White Labing features without adding PowePack addon.
White-labeling – if you're building sites for clients, this helps you create a custom, white-labelled end product.
Also, there's one unique feature that Beaver Builder has is the option to set custom responsive breakpoints in the global settings.
And you can hide or display a certain module based on whether a user is logged in to your WordPress site.
Free/Paid
Beaver Builder Free/Lite vs Paid:
| Features | Free | Standard | Pro | Agency |
| --- | --- | --- | --- | --- |
| Drag & drop page builder | ✓ | ✓ | ✓ | ✓ |
| Mobile-friendly & responsive editor | ✓ | ✓ | ✓ | ✓ |
| Preview changes in realtime | ✓ | ✓ | ✓ | ✓ |
| Gutenberg support | ✓ | ✓ | ✓ | ✓ |
| User access settings | ✓ | ✓ | ✓ | ✓ |
| Custom post types | ✓ | ✓ | ✓ | ✓ |
| Custom modules | ✓ | ✓ | ✓ | ✓ |
| Basic modules | ✓ | ✓ | ✓ | ✓ |
| Advanced modules | X | ✓ | ✓ | ✓ |
| 40+ prebuilt templates | X | ✓ | ✓ | ✓ |
| 100 prebuilt rows | X | ✓ | ✓ | ✓ |
| Save, export & reuse layouts | X | ✓ | ✓ | ✓ |
| Custom icons | X | ✓ | ✓ | ✓ |
| Domain manager for licenses | X | ✓ | ✓ | ✓ |
| Beaver Themer support (sold separately) | X | ✓ | ✓ | ✓ |
| Priority support | X | ✓ | ✓ | ✓ |
| Beaver Builder Theme included | X | X | ✓ | ✓ |
| WordPress Multisite support | X | X | ✓ | ✓ |
| Network-wide settings | X | X | X | ✓ |
| White labeling | X | X | X | ✓ |
Elementor Free vs Pro:
| Features | Free | Pro |
| --- | --- | --- |
| Number of Widgets | 30 | 50+ |
| Number of Templates | 40 | 300+ |
| Theme Builder | X | ✓ |
| Popup Builder | X | ✓ |
| WooCommerce Builder | X | ✓ |
| Form Builder | X | ✓ |
| Third-Party Integrations | X | ✓ |
| Custom Fonts | X | ✓ |
| Global Widget | X | ✓ |
| Full Site Editor | X | ✓ |
| Motion Effects | X | ✓ |
| Custom CSS | X | ✓ |
| Dynamic Content | X | ✓ |
| Role Manager | X | ✓ |
Pricing
For every newbie who wants to purchase one of these page builders, First of all, try its free version.
Beaver Builder offers three different plans. The good thing is each plan above Standard allows unlimited sites to use it.
Standard – $99 – use Beaver Builder on unlimited sites (but no multisite support or white-labeling)
Pro – $199 – everything in standard, plus the Beaver Builder theme and multisite support
Agency – $399 – everything in standard, plus support for white-labeling
It has 30 days Money Back Guarantee. There's no life plan.
But on the renewal date, you get a 40% discount on all plans, $59.40 for the standard license, $119.40 for the pro license, and $239.40 for the agency license.
On other hand, Elementor has simple price plans, Personal, Business, Expert.
All plans offer same features. The only difference is how many websites you receive updates and support for.
1 site – $49
3 sites – $99
1000 sites – $199
Again There's no lifetime plan & You get 30 days Money Back Guarantee.
When your Elementor Pro license expires you will receive a 50% discount. And the pricing will be $24.50 per year for the personal license, $49.50 per year for the business license, and $99.50 per year for expert license.
Beaver Builder vs Elementor: Final Thoughts
As I said before, try their free version and find which one is the most suitable for you're work/you.
But for Beginners, I recommend Beaver Builder with its simple and effective features. It will cost you extra money but it is worth it if you don't know anything about designing elements/pages.
Elementor Pro is great and has lots of features to offer at this price. As a beginner, I find designing with it too complicated. (Depends on your choice)
If you know how to use it then forget Beaver Builder and just go for Elementor Pro at cheapest price.
FAQS on Beaver Builder VS Elementor
Is Beaver Builder free for WordPress?
Is Elementor free for WordPress?
Yes, Elementor is completely free for WordPress.
How much does Beaver Builder cost?
How much does Elementor Pro cost?
Are there 3rd party modules or extensions for Beaver Builders?
Are there 3rd party modules or extensions for Elementor?
Yes, There is a PowerPack for Elementor with 70+ Elementor Widgets.
Is there a discount on annual renewals of Beaver Builder?
Yes! There's a 40% discount on annual renewals of Beaver Builder.
Is there a discount on annual renewals of Elementor Pro?
Yes! There's a 50% discount on annual renewals of Elementor Pro.
What's the Beaver Builder refund policy?
They offer Money Back Guarantee within 30 days of purchase.
What's the Elementor refund policy?
You can cancel your order within 30 days, and get full money back.