Do you want to write an excellent document/article without having any grammar errors? Then Grammarly is the best choice.
Grammarly is an online tool that not only corrects grammar but also helps to avoid spelling mistakes, which makes it an ultimate proofreading tool.
Before we start, Here is an EXCLUSIVE 20% DISCOUNT* for you.
---
How Grammarly Can Help You In Writing?
Grammarly checks your typing mistakes like,
Spellings, Punctiaons, Grammer, Plagiarism and your Writing Style.
After creating a Grammarly Account, there are two ways to use this advanced writing tool.
Grammarly Online Editor
Grammarly for Chrome
Grammarly for Windows
1. Grammarly Online Editor
From your Grammarly account dashboard (Grammarly Editor),
Click on a new document to write, or if you already wrote somewhere, then click on upload.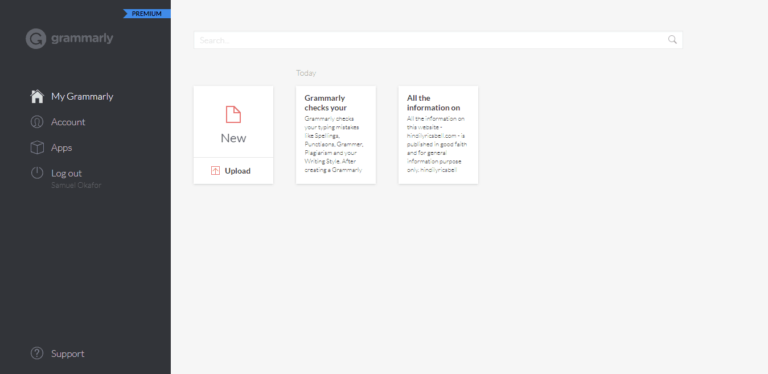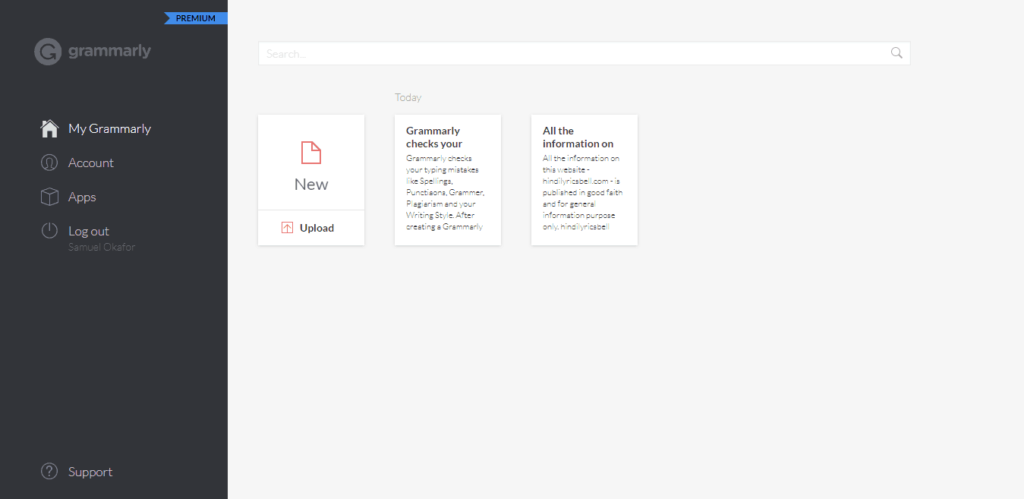 Grammarly editor helps you to write clear and precise quickly.
It underlines your mistakes with the solution on the right side of the document, as shown below.
For example, here I wrote, "ultimate," where it shows grammar mistakes and suggests to and "the" or "an" to be specific.


Clicking on the solution from the right side it will automatically replace it.
Also, you can set Goals to get tailored writing suggestions based on your goals and audience.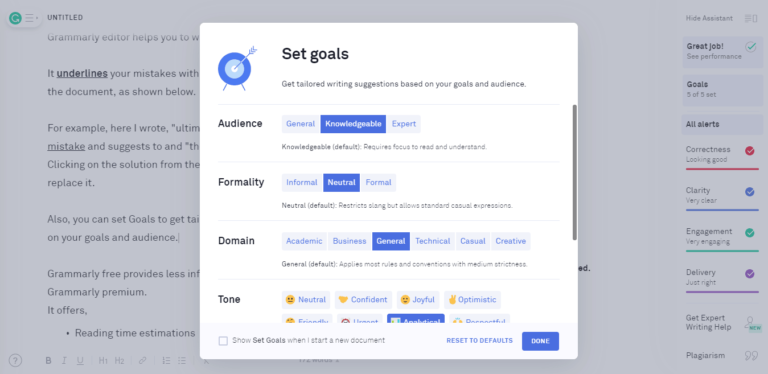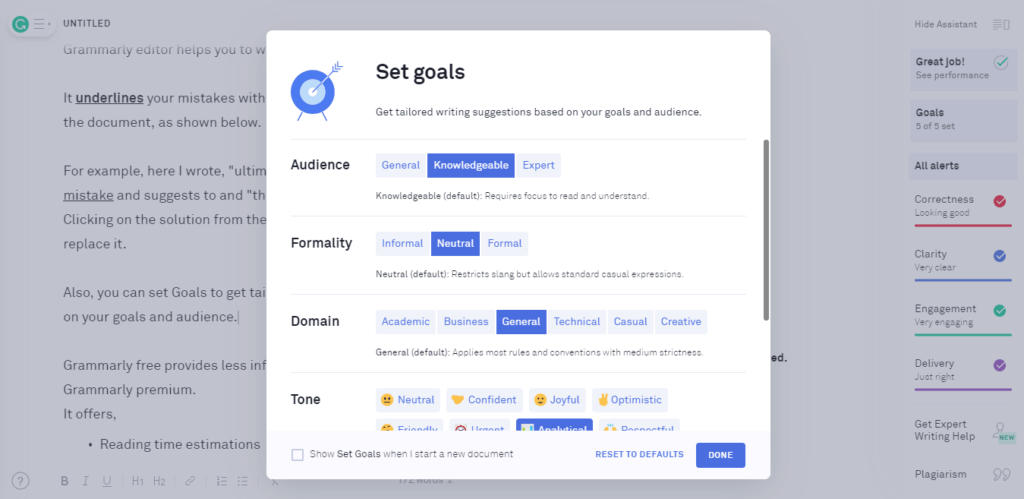 And after that, it will show your document performance report like characters, words, reading time, sentences, vocabulary, and much more.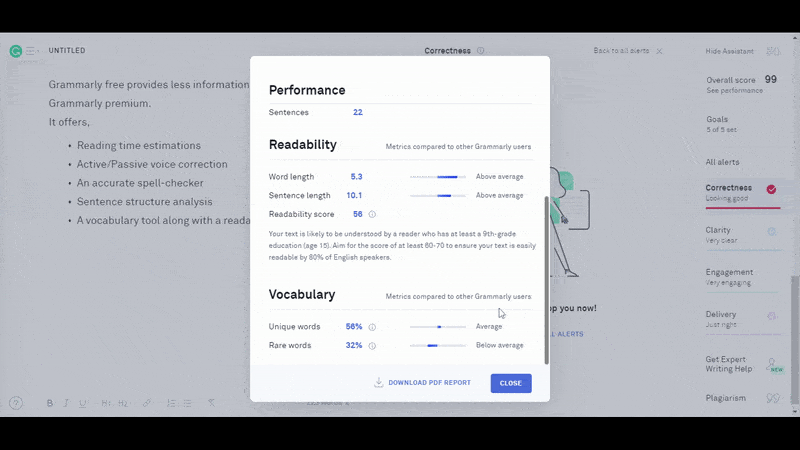 If you're a blogger like me, then the Grammarly Plagiarism tool will be beneficial for you, where Grammarly checks your documents with billions of web pages and give your correct information.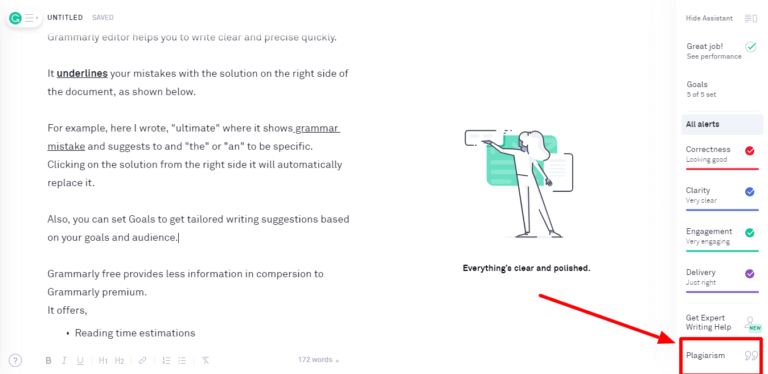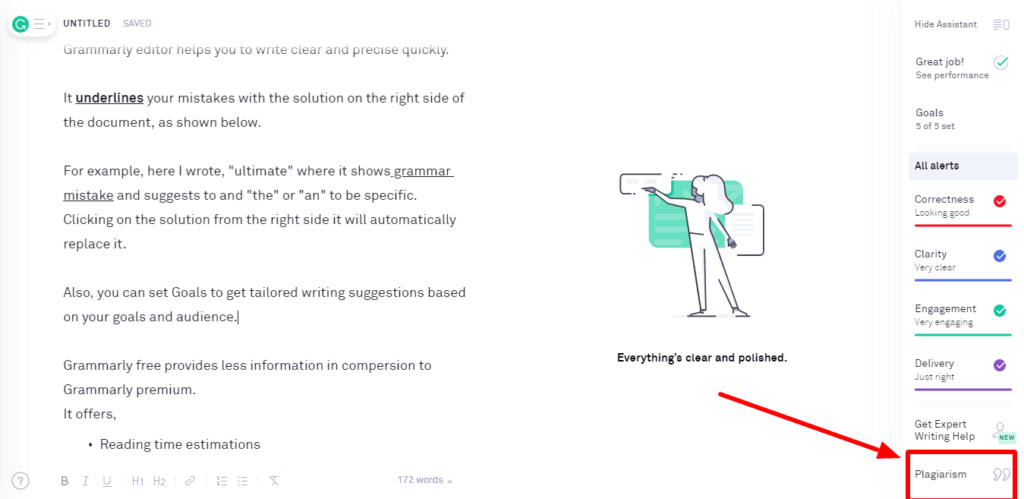 Grammarly free provides less information in compersion to Grammarly premium.
It offers,
Reading time estimations
Active/Passive voice correction
An accurate spell-checker
Sentence structure analysis
A vocabulary tool along with a readability score
2. Grammarly for Chrome
Grammarly offers a browser extension for chrome which will improve your writing skills when you write online.
Like Facebook, Twitter, WordPress, Email, this extension underlines any errors in real-time.
How to install Grammarly Extension for Chrome?
Go to your Grammarly account Dashboard and from there click on Apps.
Click on Grammarly for Chrome to install it for your browser.
You will be redirected to Chrome Web Store.
Now click on Add to chrome Button from Grammarly chrome web store page.
Click on Add Extension when the pop up comes.
It will start downloading and You're all set.
3. Grammarly for Windows
You're that guy who works offline like on Microsoft word or excel, not to worry Grammarly has a solution also for you.
To download it,
Go to Apps from Grammarly Dashboard.
From where to get two options, Grammarly for Microsoft® Office and Grammarly for Windows.
If you work whit only Microsoft office software like Microsoft Word/Excel then go which the first one.
Else for universal usages for with Grammarly Native app Grammarly for Windows.
Grammarly Free VS Grammarly Premium
Grammarly Premium offers lots of features that include A Deeper Look at Grammar, Punctuation, Sentence Structures, and Writing-Style.
Apart from these features Grammarly Premium Offers,
Check your writing across the web
Access your documents on multiple devices
Use native desktop apps (Windows and macOS)
Catch contextual spelling and grammar mistakes
Access your personal editor via Grammarly.com
See explanations of grammar rules
Integrate with Microsoft® Office (Windows only)
See definitions and synonyms via double clicks
Add words to your personal dictionary
Get performance stats via email
Grammarly Premium Plans
In terms of pricing, Grammarly offers the most affordable plans to improve your writing skills.
Annual Grammarly Premium Plans is in Best Value plan which will cost you $11.66/ month which is best for a plan to go with for a year.
First, try Grammarly For Free before you spend your money.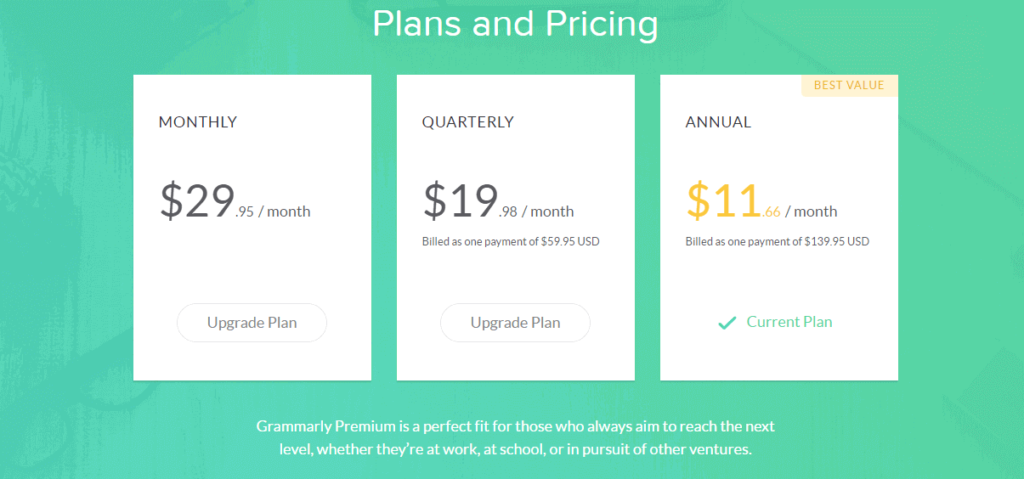 * discount is for limited period.
---