There are many factors that affect your blog SEO (Search Engine Optimization). But the major factor I can say is your main keyword on which you are making your blog/post.
To be on top of the google search list you have to do some keyword research on your selected topic.
Again there are lots of keyword research tools available on the internet some of them are free and some are paid.
Here, we will Look at Google's Own Keyword Reachers Tool known as Google Keyword Planner. And it is absolutely free to use.
If you just started blogging and you don't want to pay a bunch of money for paid services then Google Keyword Planner is best for you. it gives you almost every single detail like about competition on your selected keyword, max CPC and also suggests related keywords.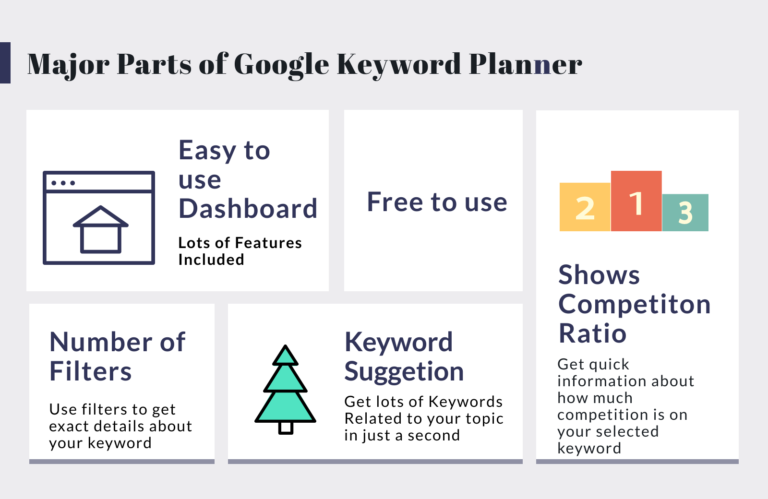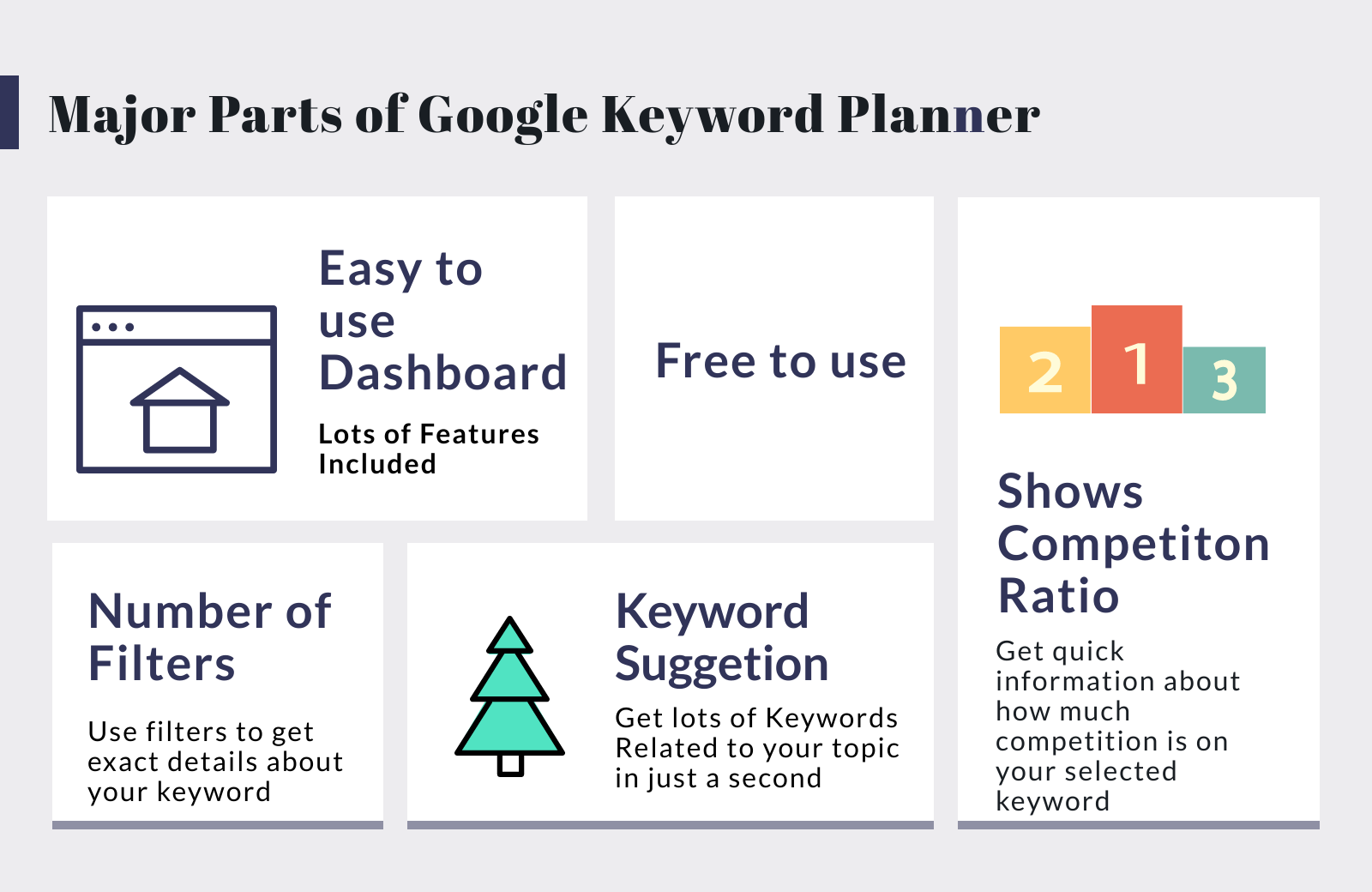 Here are a few steps on how to use Google Keyword Planner for Keyword Research:

First of all, Go to your google Adword dashboard and from Tools and Setting select keyword planner form Planner Section on it.
Here, you will notice two options, Discover new keywords and get search volume and forecasts.
[adinserter name="Media.net"]
If you have lots of keywords to analyze then go with the second option else, Choose to Discover new Keywords.


After that type your selected keyword.
Here, I choose the Seo keyword as an example.
Also, you can analyze your website and the keyword planner will automatically get keywords from the site.
Choose Location and Language as per your preference here I set language on Default and location as India.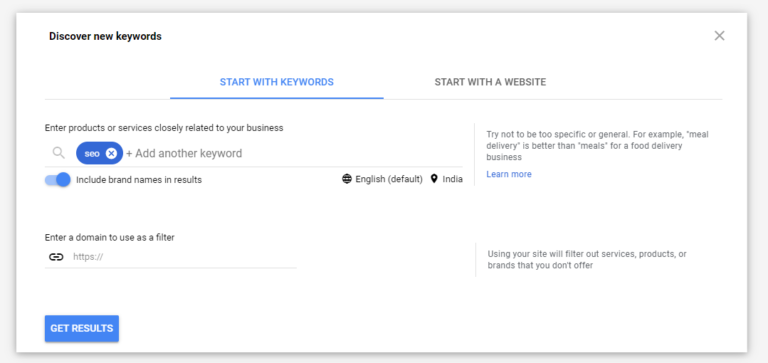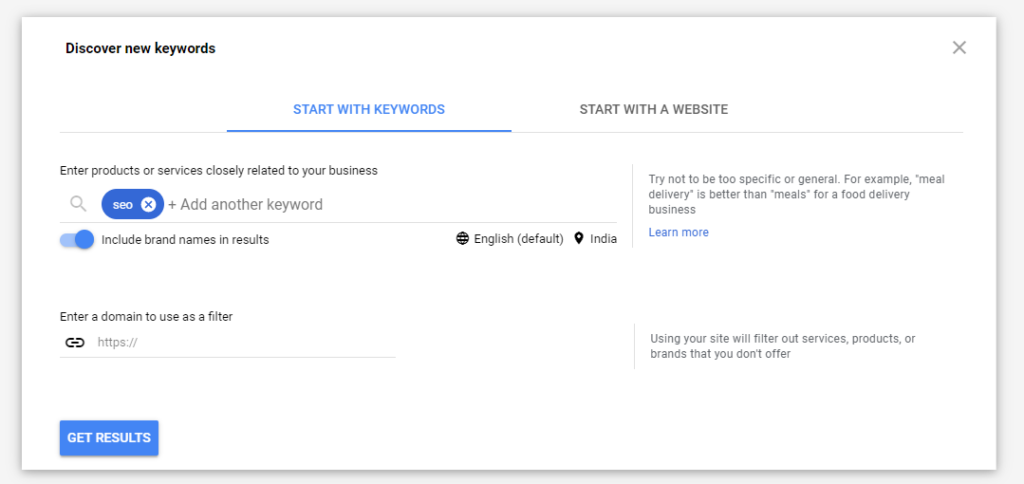 Click on Get Results.
Google Keyword Planner will analyze every single detail and give you the best results as shown below.
It also Suggests you related keywords.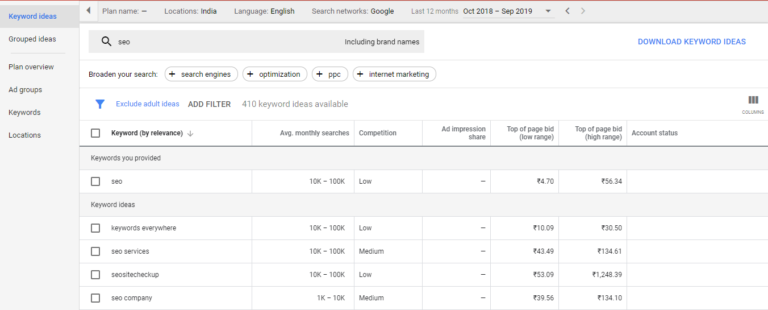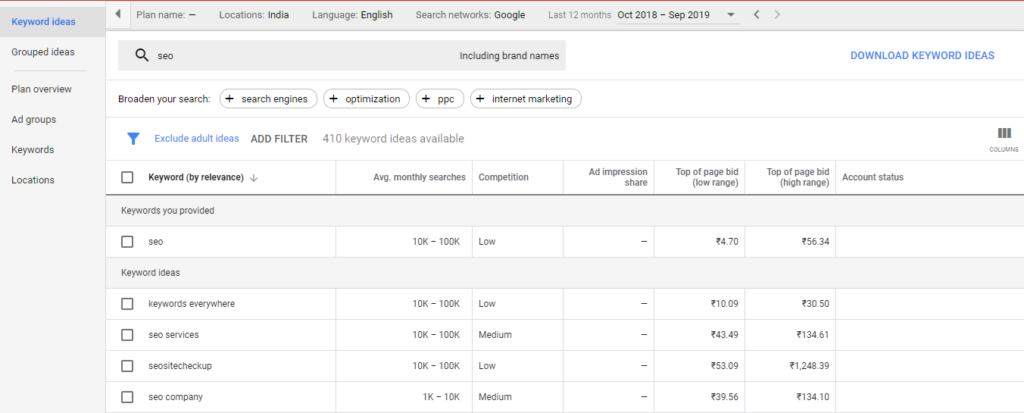 Also, you can see how much competition is on your selected keyword and how many keywords are there.
In my case, it suggests 410 keywords related to SEO.

In addition, You can sort it by Average monthly searches as show up.
You can also download the entire keyword list by clicking on Download Keyword Ideas. It will immediately give you the whole keyword list in the excel sheet.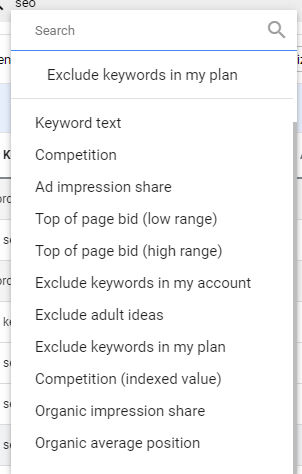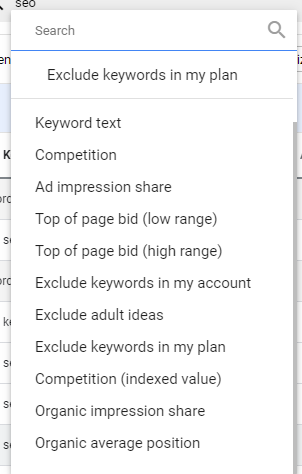 If you want to narrow down your searchers then you can do it by applying filters on it.
This tool gives you lots of filters to use as shown up in an image.

By selection the best keyword you can actually add those in your keyword plan to do more research on it.
You can access you in plan Keyword by clicking on Plan Overview from the Left menu as shown below.
Here you will notice lots of other information, too.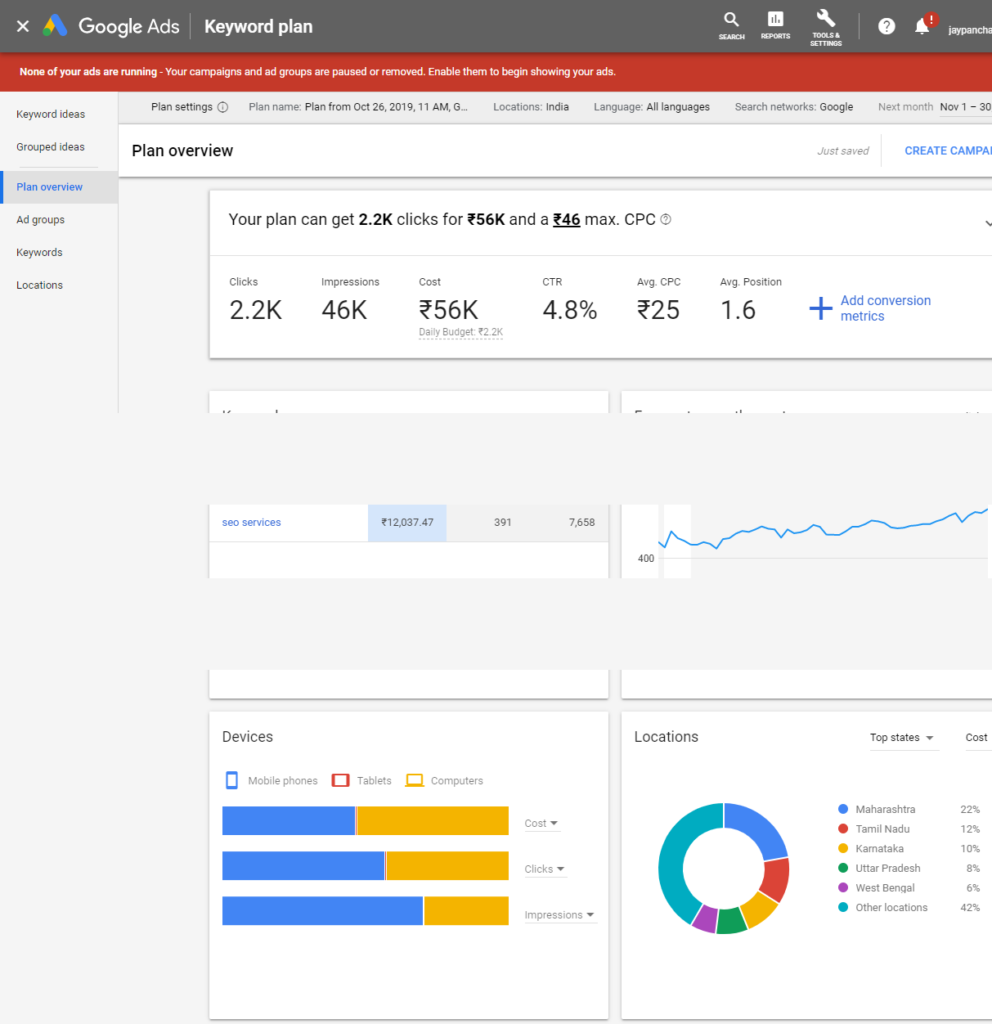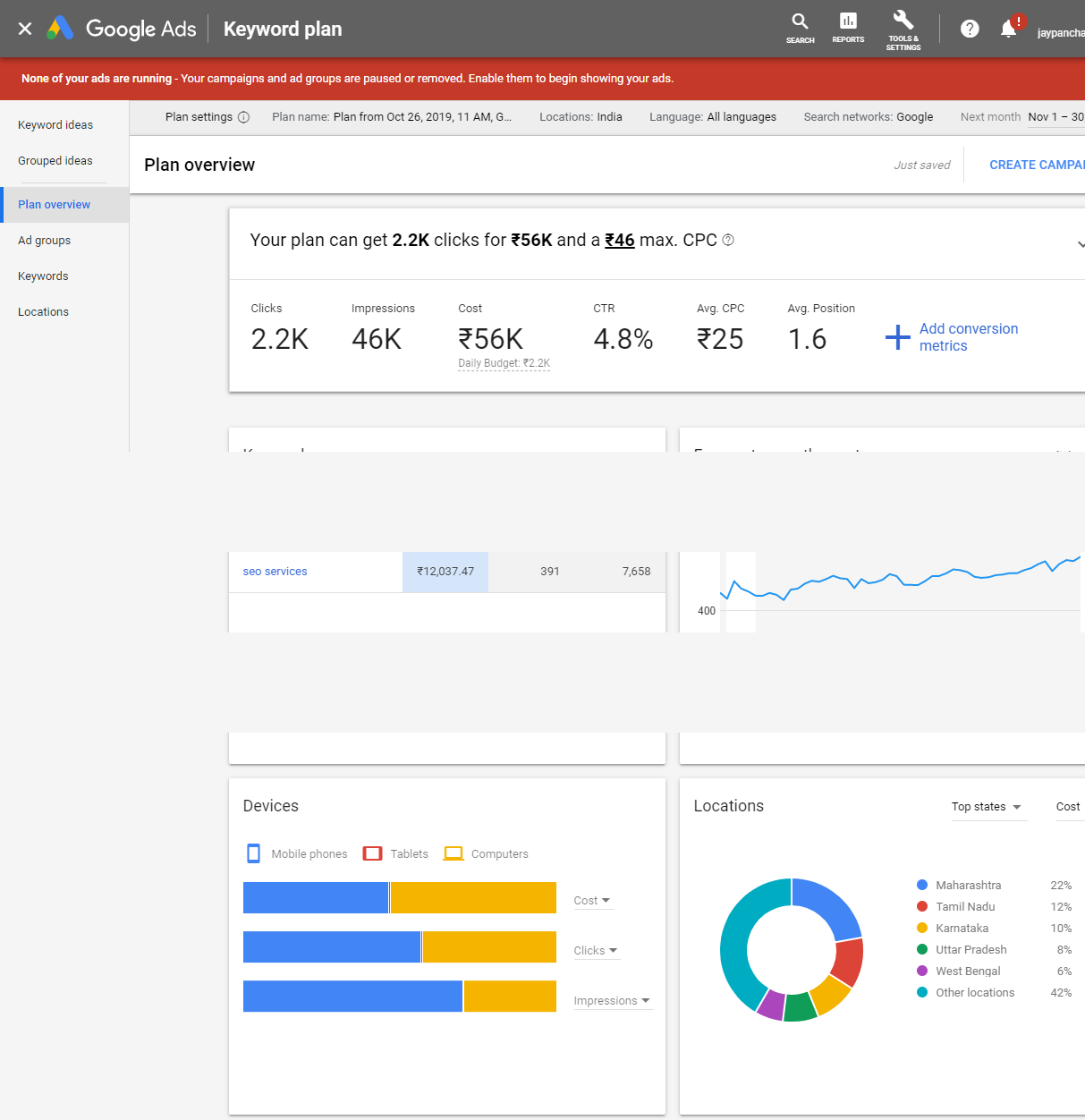 So by doing these simple steps you can and find the best keyword related to your topic and Optimise your content google search-friendly.
Beat Your Competitor
Analyze your competitor's Site/Post and find get keywords for your selected topic.


You can Choose the entire site or only selected page.
I choose Only this page and paste the URL of the page that I want to analyze.
and BOOM here you go. Steal your competitor's keywords who have more monthly traffic and low in competition.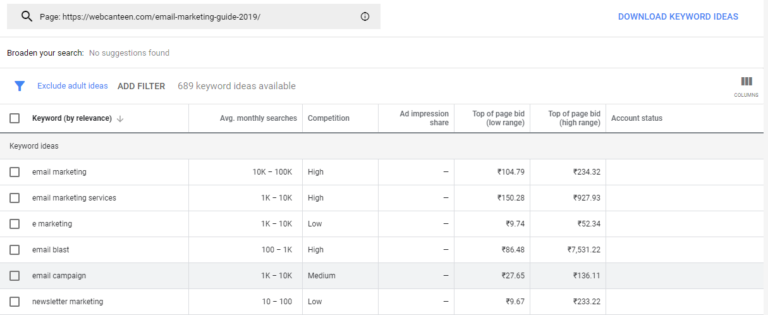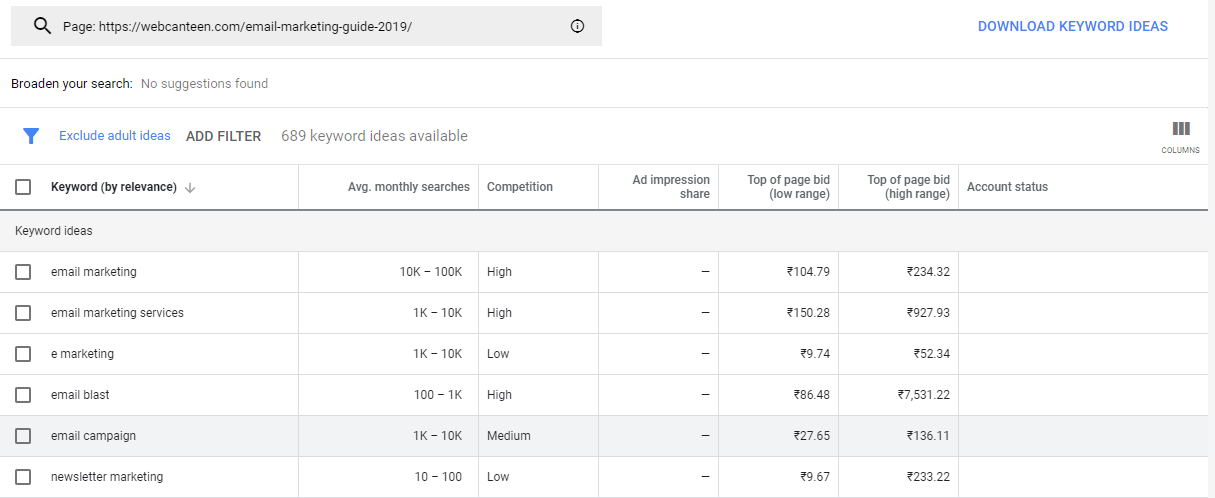 Search Long Tail Keywords like How, What, Why.
If you want to search high traffic keyword and low in completion then you must have to go with Long Tail Keyword.
[adinserter name="Media.net"]
It has a Filter to do so.
Get your keyword Search result.

Go to Filters and Apply Keyword Text.

Choose Contains and type what, why, how, when.

And Simply apply Filter.

Steps to find Long Tail Keywords in Google Keyword Planner.
The Highlight of the Google Keyword Planner Full Infographic.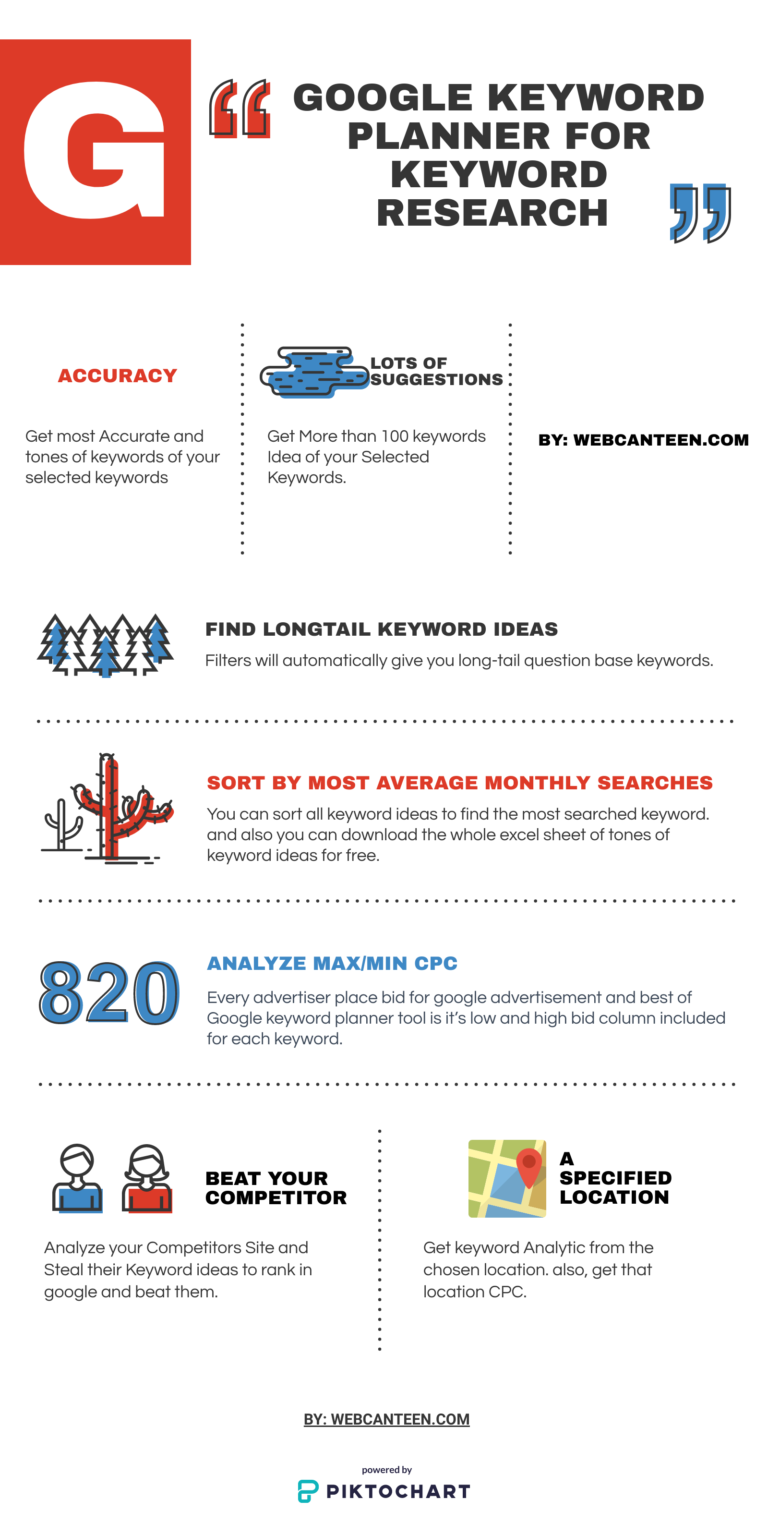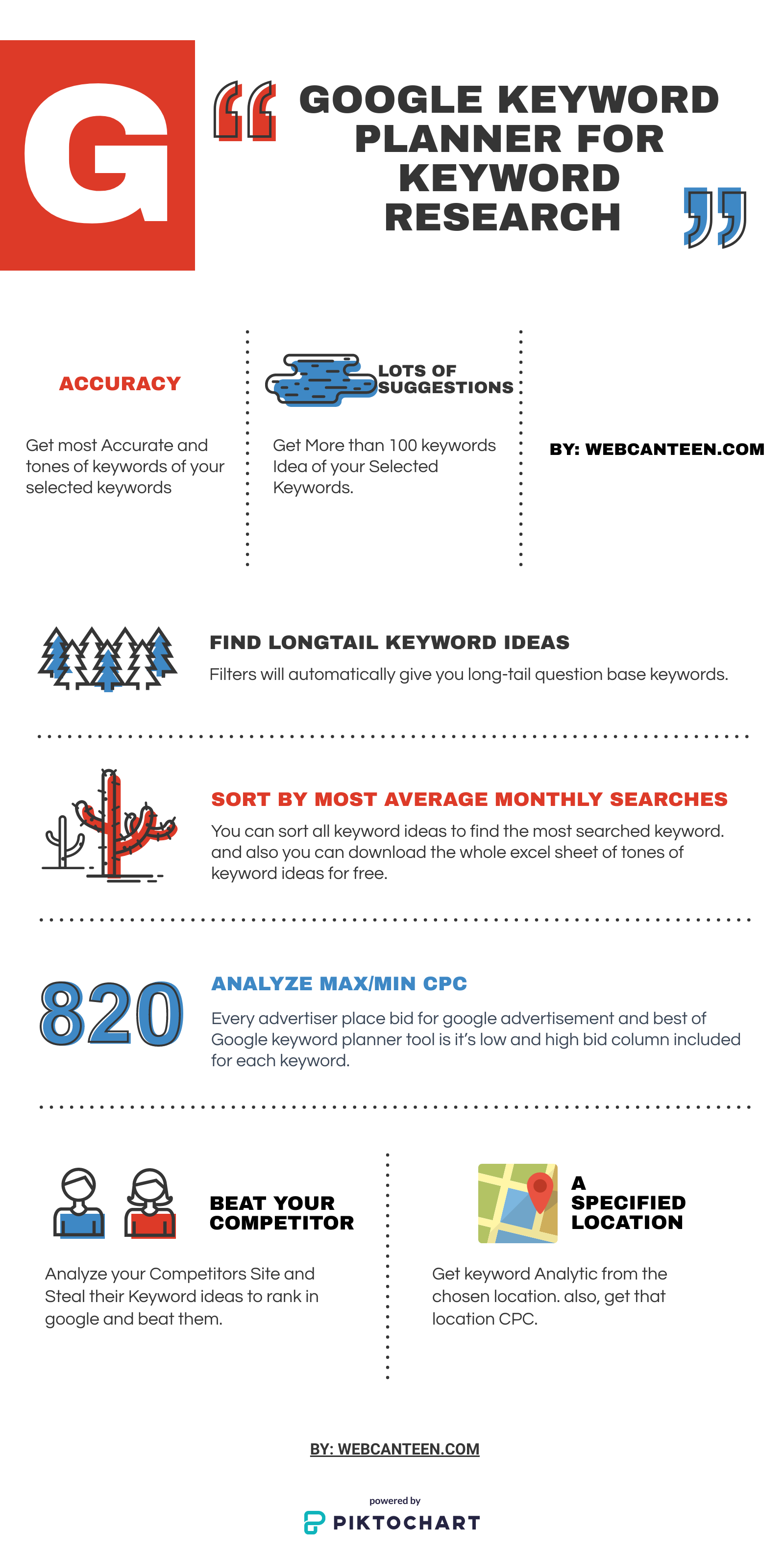 You can use this Infographic for free. but don't forget to mention me else it will be a copyright claim.
I also Published A Detailed Guide on Email Marketing 2019 to increse your Website Traffic. You can Download its Pdf For Free.

If you like this Guide then please share it.