Blog description is one of the most important factor to rank high on google.
If you have written 1000+ words post and didn't write an appropriate blog description then it will not index on google for relevant keywords.
You can check your How your blog description looks like in google with Mangools Google SERP Simulator.
There are lots of plugins available to edit your blog description. Most of them are free and some are premium one.
Here I will recommend Yoast SEO for beginners, Simple to use and very effective.
RankMath is also the best one but it has lots of features that might confuse a new blogger.
Yoast SEO plugin is free and if you want to use some premium features like redirection and multi-keyword lookup then you have to pay some bucks. (NOT RECOMMENDED FOR NEW BLOGGERS)
1. How to write a blog description?
Blog Description or Homepage description helps users to understand about your blog niche.
To Write Homepage description click on Yost SEO from the left menu of the admin panel.
NOTE: If you have a separate home page then click on the edit page and follow the post description method shown below.
After adding the Yoast SEO plugin, click on the Search Appearance tab from the left section of the Admin dashboard.
From where you can add your HomePage or Blog Description relevant to your niche.
Include your niche keywords to beat your competitor in google ranking.

POST DESCRIPTION
Open your post where at the bottom of the post section you will find Yoast SEO section.
Click on edit snippet in order to add/edit blog description.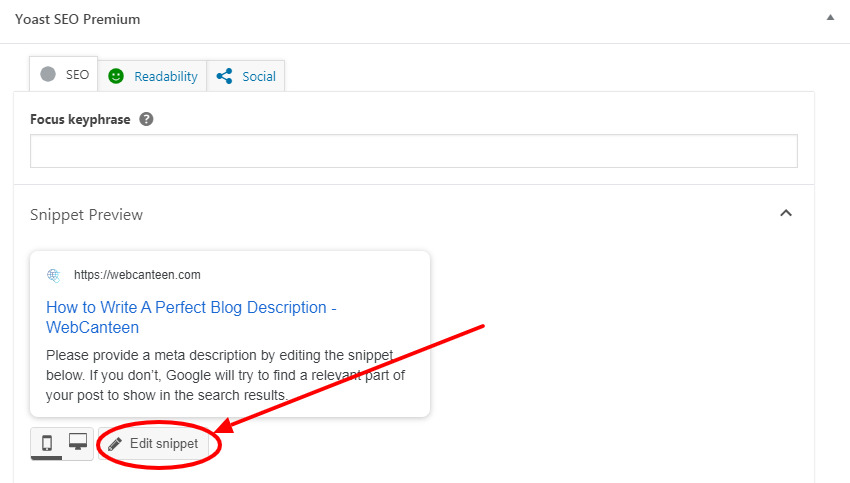 Where you can edit your Post Title, URL and Description. and that green line indicates the perfect length of Title/URL/Description.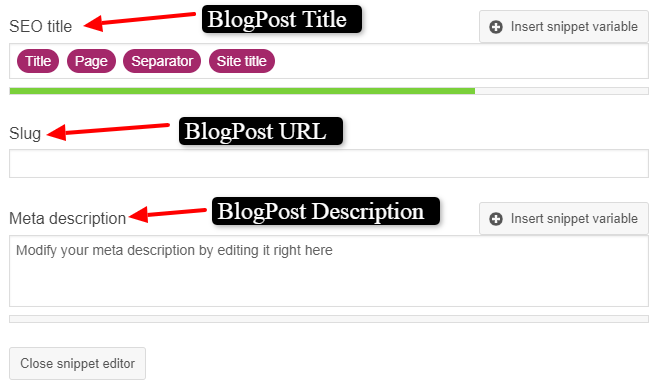 [adinserter block="5″] [adinserter block="6″]
---
2. Few Examples of Perfect Blog Description
For your better understanding here I have some perfect blog description examples.
1. ShoutMeLoud

2. Backlinko

3. BloggingCage

By using Mangools Google SERP Simulator you can get an idea of your competitor's blog descriptions and you can make your own one according to your content by taking that blog description as an example.
[adinserter block="5″]
[adinserter block="6″]
---
3. Optimize blog post description
To rank high in google search results you need to make it attractive.
Add your main keyword which will helps google to know what your post is about?
Make it a Teaser For Your Blog Post in few words (MAKE IT SWEET AND SIMPLE)
Learn how to..
Get all the..
Take a look at how..
Use LSI Keywords which helps to rank in related keywords of your main keyword. It will make boost organic clicks by 57%.
Check out your competitor's description with Mangools Google SERP Simulator and steal their ideas and implement them in your post.
In the last Add Call to Action where you are telling the user that you have to click here for your solution in a unique way which will increase organic traffic effectively.
..Click Here!
..Learn How!
..Want To Know More?
Want to grow your traffic to 1000% in just a week?
Check out, Blog Promotion 101: Increase Traffic Up to 1000%
[adinserter block="5″]
[adinserter block="6″]
---
FAQ Related To Blog Description
What is Blog Description?
This homepage description that appears below your site link in SERP.

What is Blog Post Description?
This is a post description that appears below your site link in SERP.

---
So now it's your turn, Implement all these steps and make your blog and blog post top of the google search results.
If you like this amazing post then leave a comment of your thoughts.
Check out,
How To Start A Blog in 2020 to make money [Step By Step]
How to Check Plagiarism to Avoid Copywrite Claim